I had to add another picture of the playground and my Dad playing with the kids.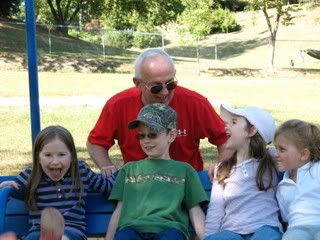 Now, this is the third post and I am only on the first full day there. Oh, my, doing this three pictures at a time will take a long time. (That is just my life right now though)
After the playground, my Dad headed home to check on Pap(what we call my Grandfather) and Gramma and the kids and I headed up to Virginia to go to a store up there. The store was closed but we found a festival to attend at a place called Karlan Mansion. It is no mansion according to today's standards but way back yonder, it was huge!
Here are my blessings in front of a small fall scene. I love fall and getting to see all the fall decorations was just wonderful to me.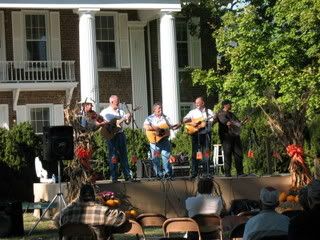 Here is the front of the mansion with a bluegrass group performing. Tomorrow I will share a couple more pictures of the Wilderness Festival.
Have a great day!
May the Lord find us faithful.