Even though my husband has personally met Sarah Palin I have only seen her from afar when the blessings and I attended her inaugaration. So far that I couldn't get a good picture.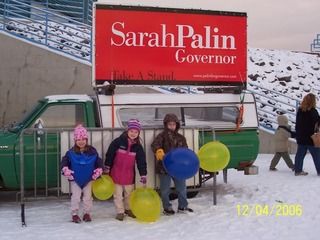 I don't hang out in villages during a flood year while the governor comes to assess the damages like some people who live in this house and just happen to work on the runway and notice lots of people gathering around a plane that just landed!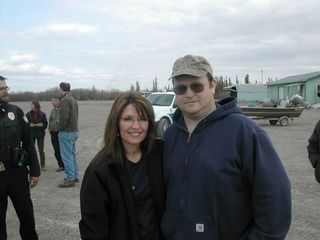 I read Going Rogue last week.
A quote from the book:



"People outside Alaska are often clueless about our reliance on natural food sources. (You know you're an Alaskan when at least twice a year your kitchen doubles as a meat-processing plant.) They don't use common sense in considering why our biologists need responsible tools for abundant game management. But as ninety-year-old Alaska Native leader Sydney Hunnington told Todd, "Nowadays, common sense is an endangered species." "



And as many of you have seen here at this blog, my kitchen does turn into a meat/fish processing plant about 3-4 times a year. Lord willing we will have that happen really soon to restock our freezer with moose.
And at the same time I have been reading and cooking from Pioneer Woman Cooks
So, I have laughed and cried and learned more about politics than I have ever wanted to know. Plus I have eated yummy Marlboro Man Sandwiches and Meatloaf and gotten oohs and ahhs over dinner. And if you come to think about it, this was a great pairing, serious reading and yummy food, Pioneer Woman's humor and the straight forward words of Sarah Palin. A week like no other and I didn't have to leave home!
You see, reading is a luxury for me right now. I read during stolen moments and as I am falling asleep at night, not that I am complaining just stating the facts.
May the Lord find us faithful.