I should have gone to bed 45 minutes ago, but I greatly enjoy the quiet time after everyone goes to bed.
It has been a great day, Mrs. L was able to come today and she stopped off and picked up a little friend to join us today. The kids had fun playing, watching a movie and making these cakes that look like a fudgesicle. Mrs. L had a special pan that she had brought over for us to try.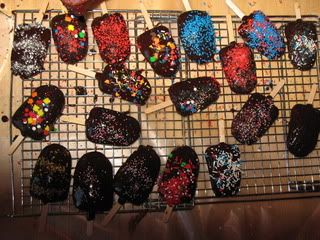 We were invited to dinner at a friends' home, which we always enjoy spending time with. We had fried chicken and all the yummy fixins.
Dad was home today and we always enjoy time with Dad.
Dad and the kids have begun a "gym" class. They are walking on the treadmill, and doing exercises such as sit ups and push ups and jumping jacks. What do I do? Keep the baby entertained. But I did get on the tread mill this morning. I turn 40 this year, so this is the year of exercise and good health for me anyway. I don't have a pounds to lose goal but I have a goal clothing size....just healthy not skinny. Skinny is way over rated and who determines what skinny is? Any Hoo, after that fried chicken today, the treadmill is calling my name tomorrow!
This baby is into everything, literally: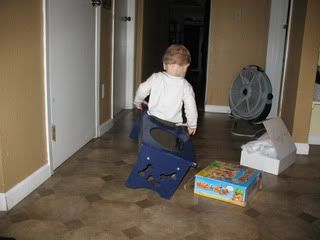 He is 13 months old now....my how time flies!
May the Lord find us faithful.