Ever wonder what we do for fun around here? Didn't think so! One of the best things we have done is to collect snow machines, we have bought a couple and the grandparents have bought a couple for the kids and Blessing #1 bought a machine last spring all of his own. They keep my husband busy keeping them going but generally it doesn't cost a lot to keep maintained. The good news is that I was able to get out with the family this week and ride around close to the house. My husband and the Blessings go over to the river and ride, we actually live in a good area to hop right over and ride.

Here are the Blessings and I, we have very little snow. See the dirt and gravel peeking through the snow on the road? I think all the snow has gone south this winter.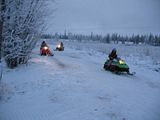 Blessing #4 really enjoyed riding, he loves being outside with everyone.
Dad and baby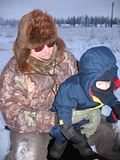 A closer view of me and a couple of blessings.
Medium sized machine and small sized machine
Me and all my Blessings....I am truly blessed.
It wasn't that cold but I didn't put on a helmet and it gets cold when you have the wind whipping across your face!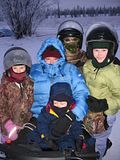 Blessing #2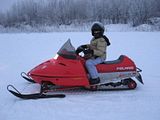 All the Blessings gathered on top of a gravel pile at our neighborhood gravel pit/pond.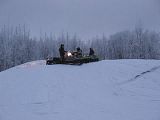 May the Lord find us faithful.